Volunteers, students plant at Jessica's House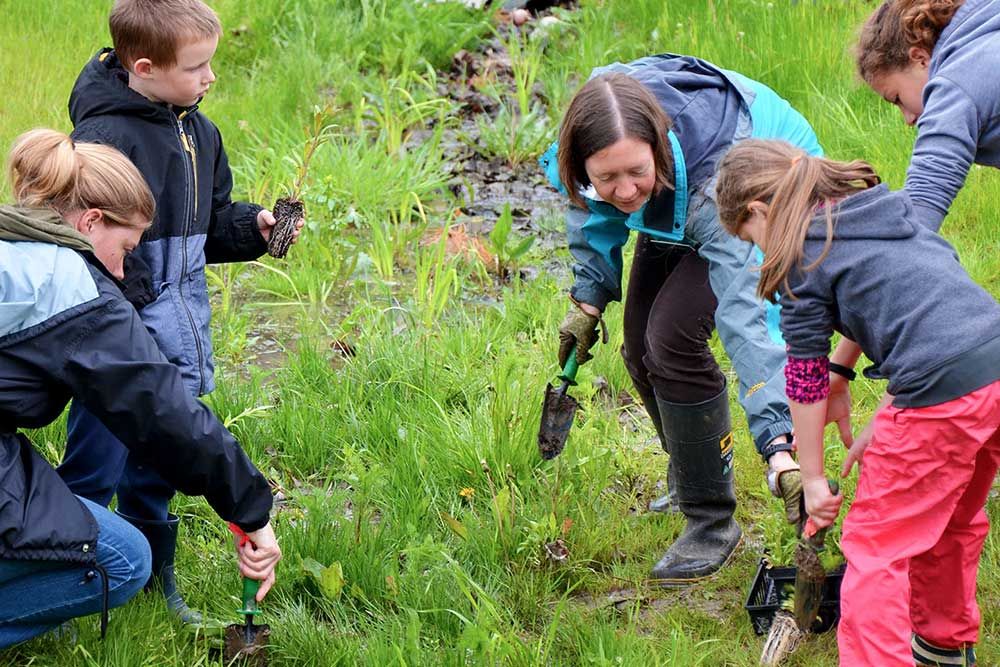 Students, volunteers take part planting native plants in new green stormwater demonstration garden at Jessica's House Residential Hospice
About 50 students from Precious Blood Catholic School and several volunteers from Community Living South Huron work to protect water by planting rain garden plants at Jessica's House Residential Hospice in Exeter on Wednesday, May 29, 2019
Volunteers from Community Living South Huron and about 50 kindergarten and Grade 8 students from Precious Blood Catholic School in Exeter planted 209 plants at a rain garden at Jessica's House residential hospice in Exeter on Wednesday, May 29, 2019. This garden protects and improves water quality by capturing runoff from nearby parking lots, fields, and other surfaces. The work of Community Living volunteers and Precious Blood students made this garden an educational tool that shows green initiatives for stormwater management, according to Ausable Bayfield Conservation.
Rain gardens are shallow, sunken gardens designed to capture water running off of roofs, driveways, roads, and other surfaces during storms. Rain gardens are planted with a variety of native flowers, grasses and shrubs. Native plants occur naturally in a region. This makes them better suited to local growing conditions. It is the deep roots of these native plants, along with the soil of the rain garden, that help to filter fertilizer and other pollutants from stormwater runoff. "This planting of native species will act the same as a rain garden but it is a little different as we did not have to bring in sand, topsoil or mulch," said Angela Van Niekerk, Wetland Specialist with Ausable Bayfield Conservation.
Even before the addition of native plants, the existing drain at Jessica's House has already collected and held water for a short period of time to allow water to infiltrate through the soils or outlets if it reaches a certain height. The native plants will add colour, pollinator habitat, filter nutrients from the water, and reduce the amount of water outletting to the storm sewers, according to Van Niekerk. "As stormwater travels across paved surfaces, it can pick up a variety of pollutants," she said. "By diverting water away from storm drains and into rain gardens, we allow the plants and soil to filter out sediment and other pollutants." These types of gardens play an important role in protecting water quality. They also provide habitat and add beauty to our local landscape, according to the Wetland Specialist.
The May 29 planting educated students about green initiatives to better manage stormwater. Jessica's House Residential Hospice; Ausable Bayfield Conservation Authority (ABCA); Community Living South Huron; and Precious Blood Catholic School in Exeter are working together on the project. Funding for the plants was provided by the local Urban and Rural Stormwater Improvements (URSI) project of Ausable Bayfield Conservation Foundation. This project has been made possible with funding support from the EcoAction Community Funding Program of the Government of Canada.
Jessica's House is named in honour and memory of 22-year-old Jessica Hamather who lost her life in 2015 to an extremely rare cancer. This community hospice provides residential hospice and compassionate, medical, and emotional care and palliative support and other services for people with life-threatening illnesses. The hospice also provides bereavement support and other services for families of residents in care. To donate or to find out more visit:
To find out more about rain gardens, visit this web page at abca.ca:
PHOTO BELOW:
Volunteers from Community Living South Huron helped to create a demonstration green stormwater garden by helping to plant native species of plants at the new rain garden at Jessica's House residential hospice in Exeter. Shown in photo, from left to right. are: volunteer Steven Kennedy; conservation educator Denise Iszczuk, of Ausable Bayfield Conservation; volunteer Eloise Klungel; volunteer Roger Rammeloo; and Tammy Tilley, of Community Living South Huron. Also volunteering was Len Ryan.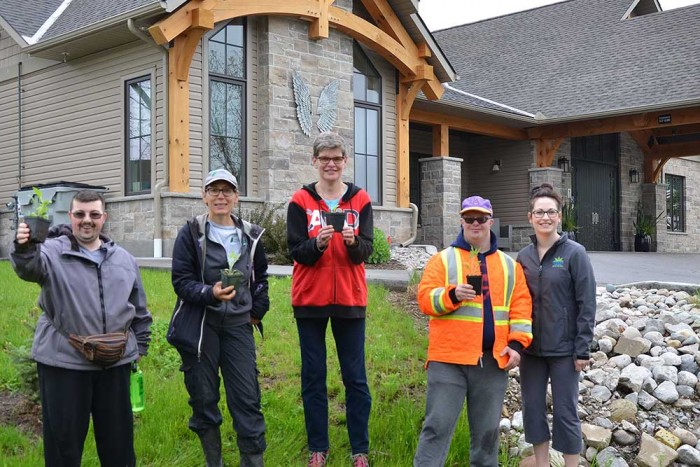 Share this article >