Water. Cond. Statement Flood Outlook Water Safety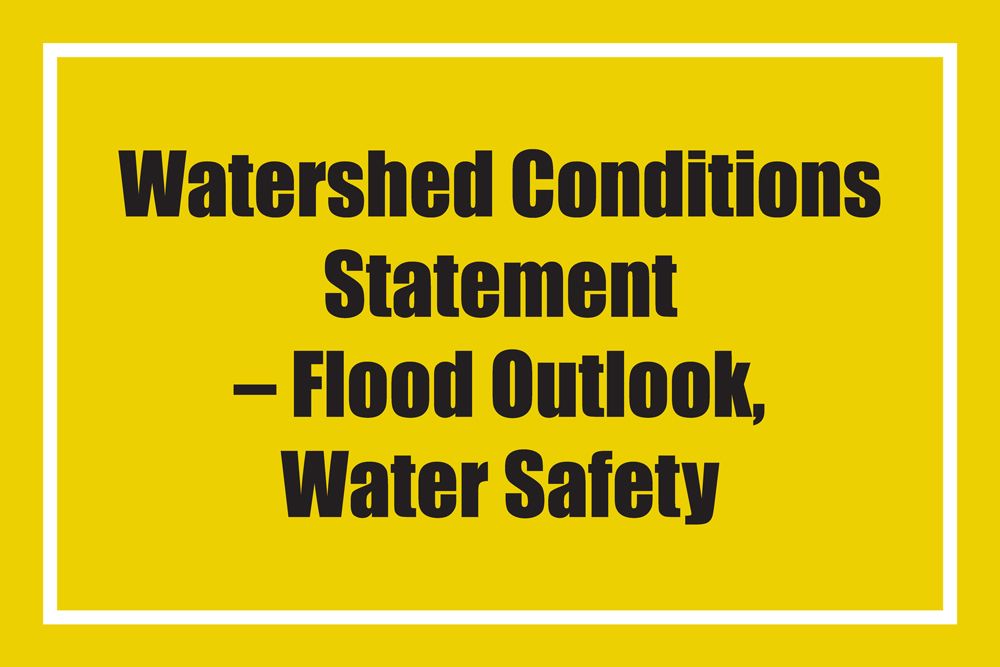 The following Watershed Conditions Statement – Flood Outlook Water Safety, and Lake Huron Shoreline, flood message was issued by Ausable Bayfield Conservation Authority (ABCA) on Friday, April 26, 2019 at 10:00 a.m.
River levels expected to exceed bankfull in response to 30-35mm of rain
Strong winds and waves may cause erosion problems along the Lake Huron Shoreline
An intensifying low pressure tracked through the Ausable Bayfield Conservation Authority (ABCA) watershed this morning, resulting in 30-35 mm (millimetres) of rainfall since midnight. Precipitation today (Friday, April 26, 2019) is expected to be light.
Intense rain and a quick runoff have resulted in rapidly rising water levels as of this morning. Based on current weather and streamflow forecasts, levels in watercourses will exceed bank-full conditions, resulting in minor flooding of traditional low-lying flood plain areas. Water levels will be similar to those experienced earlier this spring. Levels in smaller watercourses are projected to peak later today (April 26, 2019), with larger rivers peaking late tomorrow (Saturday, April 27, 2019). Flows are expected to remain above seasonal into next week.
Residents are reminded to use caution near all watercourses. Significant flooding is not expected, but slippery and unstable streambanks, and extremely cold and fast-flowing water will combine to create hazardous conditions.
Lake Huron Shoreline: As the low pressure system continues to move across the Province of Ontario, strong northwest winds are expected to set up along the Lake Huron shoreline over the next 24 hours. Sustained winds over 40km/hr are expected, with gusts exceeding 70km/hr. Wave heights and saturated ground conditions may result in an increased risk of erosion to lakeshore bluffs. Public and municipal staff should stay well back from breaking waves, and avoid top-of-bluff areas, during and immediately after the storm in case there has been any movement of the lake bank.
This message will remain in effect until 9:00 a.m. on Monday, April 29, 2019, unless local conditions warrant further updates. The Ausable Bayfield Conservation Authority will continue to monitor watershed conditions and will provide an update if required.
Share this article >