Lucan's Jada Burt was Jr. Conservationist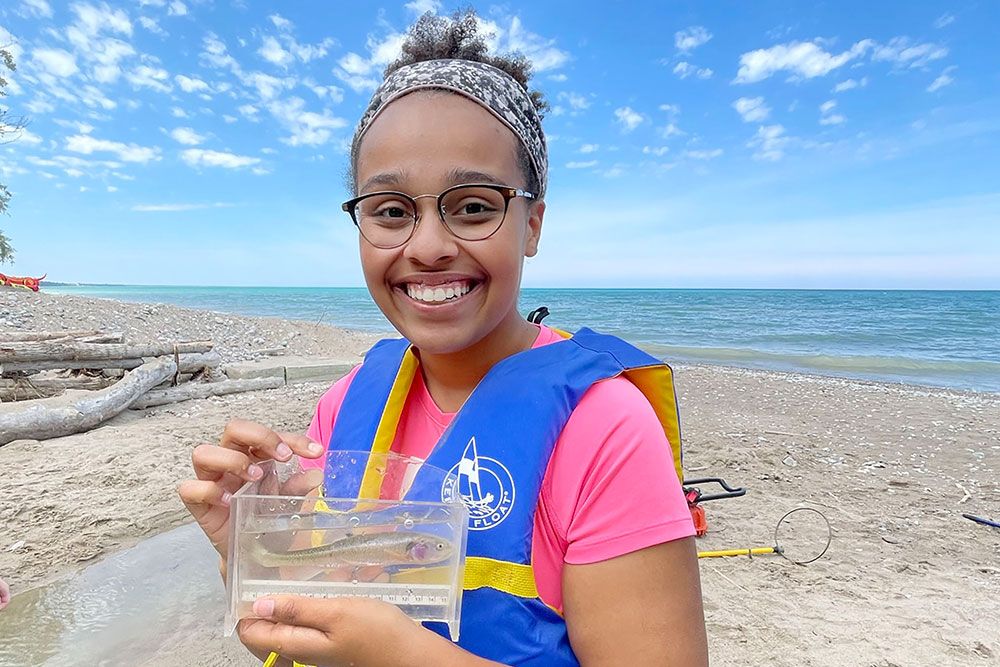 Lucan's Jada Burt monitors water quality and fish species, removes invasive plant species, helps with outdoor conservation education as 2022 Junior Conservationist
Ausable Bayfield Conservation Foundation funds Junior Conservationist two-month summer job experience program for local young people
Column by Jada Burt, 2022 Junior Conservationist with Ausable Bayfield Conservation
I have had the privilege of being the Junior Conservationist, with Ausable Bayfield Conservation Authority (ABCA), for the year 2022. The Junior Conservationist is a two-month summer job experience program.
When I first got this job I was hoping for some experience in environmental work. I wanted to get a feel for it and see if this is what I wanted to do. I had no clue what to expect but I was definitely not disappointed. As soon as I started the job I was never bored. For the past two months, I have been super busy.
My weeks usually started off by water monitoring along Lake Huron with Rosalind Chang, ABCA Healthy Watersheds Technician. Going to the beach may sound like a fun time but as soon as you hit one water sampling spot, with 105 steps, things can get kind of crazy.
After water sampling, my fieldwork varied. Some other fieldwork I did was helping study fish populations with Aquatic Biologist Kari Jean; Water Resources Coordinator Davin Heinbuck; and Assistant Water Resources Technician Christie Brown. That is the first time I was ever in fishing waders in a canoe.
I also went with Forestry and Land Stewardship Specialist Ian Jean to Hay Swamp to remove invasive species. The one thing I learned, while looking for the invasive species, is to get ready to be eaten by a lot of mosquitoes. This is especially true if you are with Ian because he attracts a lot of them but he never seems to get bitten!
I went with Wetlands Specialist Angela Van Niekerk and Healthy Watersheds Technician Hope Brock to a community in our watershed where residents are looking to have a rain garden at their home. Meeting with people in the watershed is very interesting. Before I got this job I never realized how much ABCA does for our community. (They do a lot).
One of my recent highlights is when I went to Huronview Demonstration Farm, with Aquatic Resource Technician Shevaun Verhoog and Watershed Data Specialist Elizabeth Balfour, to measure slopes in some of the fields. The interesting part of that day was we had to use rise over run. I never thought I would have to use the calculation of slope during fieldwork!
I also worked with Conservation Educators Denise Iszczuk and Nina Sampson. I enjoyed learning fascinating things about nature, along with the children, at Summer Nature Day Camps.
The funniest thing I did this summer, while working with ABCA, is when I was working with Water and Soils Resource Coordinator Ross Wilson. We were putting up water gauges along the Old Ausable Channel (OAC) near Grand Bend. The first time we put up the gauges we decided to put together the parts of the gauge in the water. While we were doing so I had to be still and a dragonfly landed on me. Then a bird flew by and dropped a worm on my shoulder. While this was happening I had to stay still because Ross was trying to affix the measurement part of the gauge to the post. One thing you should know is I am not a bug person. Surprisingly I was calm throughout this time having those two creatures (a dragonfly and a worm) on me.
Working for ABCA this summer has definitely broken me out of my comfort zone so I can try new things today.
Overall, my favourite part of my day at work was spending time with my co-workers whether it was during fieldwork or administration work. They were always there to help. Every time I came into work, in the morning, there were always smiling faces there to welcome you.
When I first started as Junior Conservationist I could tell how close everyone is at ABCA. I was nervous I would be an outcast but my new co-workers invited me into the organization with open arms.
The Junior Conservationist program is thanks to Ausable Bayfield Conservation Foundation (ABCF) and all the people in the community who support the Foundation with their donations.
I would like to say thank you so much for this opportunity of being a Junior Conservationist. I have learned so much and cannot wait to apply this learning experience at the University of Guelph as I am going into Marine and Freshwater Biology.
Ausable Bayfield Conservation has been such a welcoming community and I cannot wait to come back and volunteer for anything that ABCA brings forward.
– Jada Burt is from Lucan and is a graduate of Medway High School in Arva. She is attending the University of Guelph to complete her BSc in Marine and Freshwater Biology.
Share this article >