Kirsten McIntosh, of Seaforth area, wins award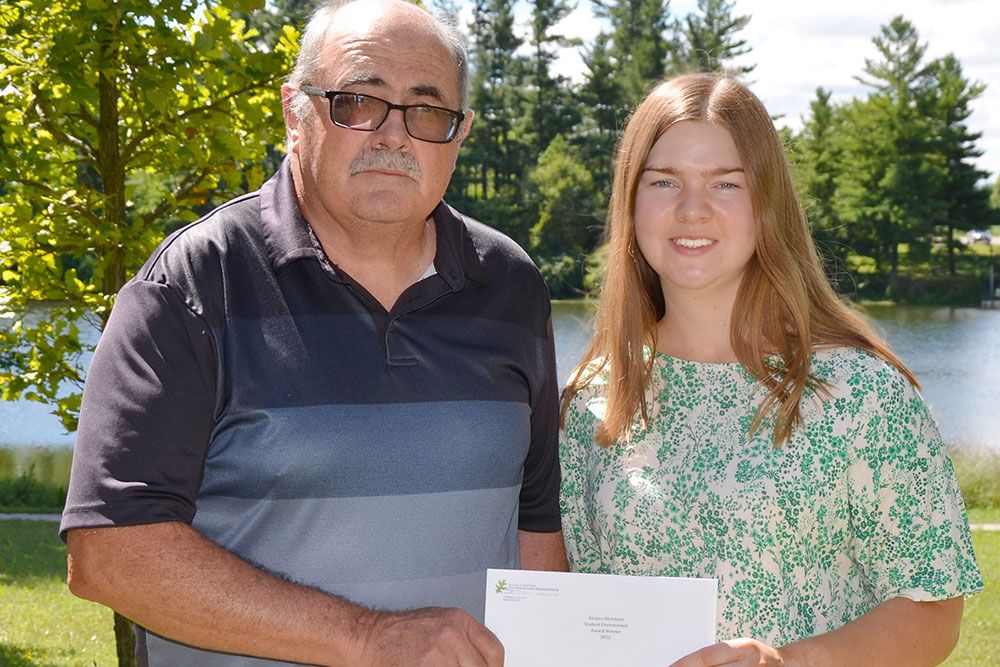 Kirsten McIntosh is 2022 winner of $1,000 Student Environmental Award from Conservation Foundation
Ausable Bayfield Conservation Foundation first presented $1,000 student prize in 2010; Bursary has furthered education for 11 recipients
Ausable Bayfield Conservation Foundation (ABCF) has presented the $1,000 Student Environmental Award. Kirsten McIntosh, of the Seaforth area, is the 2022 winner. She is the eleventh local student to win this recognition since ABCF first began presenting the award in 2010. ABCF Chair Dave Frayne presented the award at a brief ceremony on August 9, 2022.
Kirsten is studying at Lambton College in Sarnia in the Environmental Technician Water and Wastewater System Operations program.
"I would like to thank Ausable Bayfield Conservation Foundation for presenting me with this award today and I am so grateful to receive this award," she said. "It will help me with my education at Lambton College."
Kirsten's interest and experience in the environment has included helping out for three summers at Summer Nature Day Camps hosted by Ausable Bayfield Conservation Authority (ABCA). "Working with staff and students made me want to learn more and do more to protect our local environment," she said.
While a student at Central Huron Secondary School in Clinton, Kirsten took part in a Co-op placement at Veolia Water in Goderich. She learned about testing water for E. coli bacteria; chlorine; fluoride levels; and water clarity.
Kirsten also completed a Co-op placement with Municipality of Central Huron in the Water and Wastewater Department. She learned about water distribution and the wastewater treatment plant.
She also enjoyed a Co-op placement, with Friends of Hullett, at Hullett Provincial Wildlife Area. She monitored wetlands, checked nesting areas for turtles, collected data on duck boxes, and maintained trails.
Kirsten also volunteered at the Lake Huron Coastal Centre. She learned about how sand dunes help to prevent erosion, plant identification, and the impact of harmful invasive species. She took part in a beach cleanup, studied species at risk, and learned about different types of wetlands.
Kirsten said her experience growing on a cash crop and poultry farm has taught her about the importance of protecting water and soil. Her family plants trees and uses cover crops to prevent soil erosion in the fields. They use a Nutrient Management Plan to properly handle manure and practise the Four Rs: right source, right rate, right time, and right place.
For a video of the 2022 award presentation, visit the Ausable Bayfield Conservation YouTube channel for this video:
For a video about previous recipients of the prize, between 2010 and 2019, watch this video:
The entire amount of this award is raised through community fundraising and donations. Donors can get a charitable gift receipt, for income tax purposes, for their donations to the Foundation. People can also support the student award, and other Foundation charitable activities, through fundraising events such as the Conservation Dinner.
The Conservation Foundation awards this prize to the winner of an application process. The award is presented to a graduating secondary school student or student enrolled in university or college pursuing education in a conservation-related (environmental) course of study such as biology, ecology, geography, forestry, fish and wildlife, agriculture, or outdoor education. Students write a creative two-page essay on their personal involvement with a conservation or environment-based project or organization.
Award winners are between the ages of 17 and 25, and have a permanent address in a municipality of the ABCA watershed. Those watershed municipalities are: Adelaide Metcalfe; Bluewater; Central Huron; Huron East; Lambton Shores; Lucan Biddulph; Perth South; Middlesex Centre; North Middlesex; South Huron; Warwick; and West Perth.
The Conservation Foundation recognized Ryan Finnie in 2010 with the first Student Environmental Award. Winners since then are: Raina Vingerhoeds (2011); Greg Urquhart (2012); Ryan Carlow (2013); Connor Devereaux (2014); Barb Alber (2015); Samantha Bycraft (2016); Marina Lather (2017); Ethan Quenneville (2018); Meghan Glavin (2019); and Kirsten McIntosh (2022).
To learn more about this award visit the abca.ca website and click on the Student Environmental Award web page.
PHOTO: KIRSTEN McINTOSH WINS $1,000 STUDENT ENVIRONMENTAL AWARD FOR 2022: Dave Frayne, Chair of Ausable Bayfield Conservation Foundation (ABCF), presents the $1,000 Student Environmental Award to Kirsten McIntosh, of the RR 4 Seaforth area. Kirsten is the eleventh local student, since 2010, to benefit from this award given to the winning candidate pursuing post-secondary studies in a conservation-related field. This award is possible thanks to the community people who donate to the Foundation and who support its charitable fundraising activities.
Share this article >