Helping you plant trees, create wetlands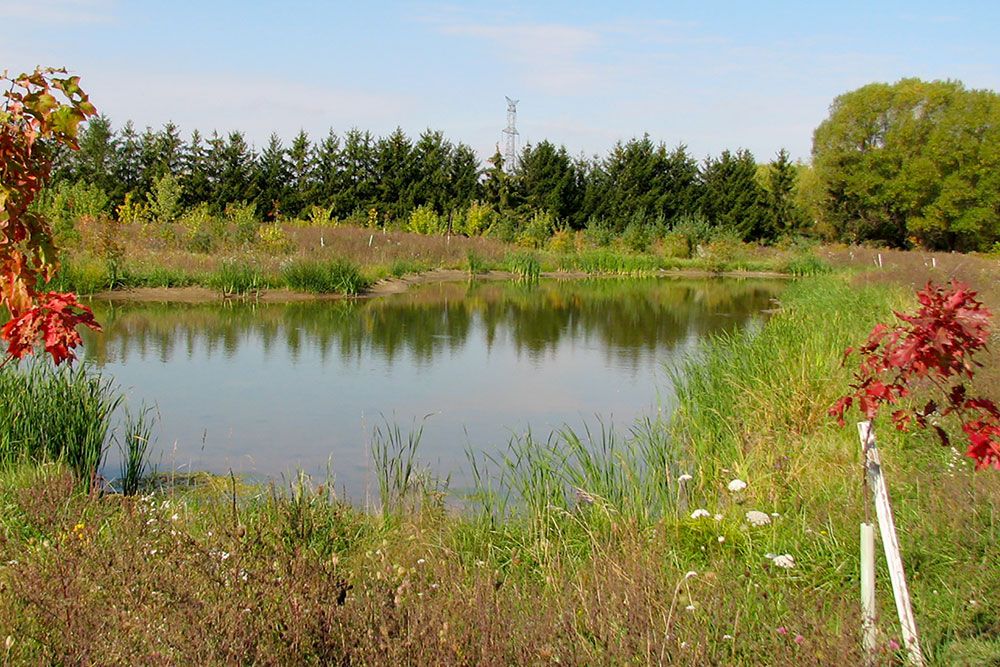 Ausable Bayfield Conservation helps local people plant trees, enhance wetlands, build green infrastructure with support of Ontario Community Environment Fund grant
Province of Ontario provides $82,575 over two years through Ontario Community Environment Fund to Ausable Bayfield Conservation Authority for enhancing rural green infrastructure in Ausable, Bayfield watersheds
An Ausable Bayfield Conservation green infrastructure program can help you to plant trees, create or enhance wetlands, and protect water quality.
Ausable Bayfield Conservation Authority (ABCA) is receiving funds, from the Province of Ontario, through the Ontario Community Environment Fund (OCEF) for the green infrastructure program. ABCA is receiving $82,575 over two years, from OCEF, to match other grants and restore 20 wetlands on 4.5 acres and plant 20,000 trees over approximately 28 acres. Ausable Bayfield Conservation is also increasing awareness of the importance of rural green infrastructure through news releases, social media public information campaigns, and three educational programs to 250 students.
To find out about tree planting and wetland programs, and grants and staff technical expertise to help you make enhancements on your property, visit abca.ca or contact staff at 519-235-2610 or toll-free 1-888-286-2610.
This local program is called 'Enhancing rural green infrastructure in the Ausable and Bayfield watersheds.' The program is to protect and improve water quality, create habitat, reduce flooding and erosion, and help communities to adapt to extreme weather events and mitigate the effects of climate change.
Green infrastructure includes forests and woodlots, wetlands and stormwater ponds, soil, and natural areas. It also includes technologies to absorb water and manage runoff. These technologies include rain barrels and permeable pavement. These green technologies filter and store stormwater and replicate functions of ecosystems.
Enhancing natural features and green infrastructure has many benefits to our communities. It can help to store, filter, and treat water running over land during storm events. Green infrastructure can reduce flood risk by slowing and reducing stormwater. It has economic benefits as well by reducing economic risk and damage.
Adding natural features to our landscape has benefits to air and water quality, to habitat for wildlife and pollinators, and to make our communities more resilient and better prepared to adapt during extreme weather events as our climate continues to change.
To find out more about Green Infrastructure watch this video:
"We encourage residents of our watershed, both rural and urban, to contact us about projects they can do to build natural infrastructure," said Angela Van Niekerk, ABCA Wetlands Specialist. "We can provide technical help and, in many cases, grants to help you to add trees, enhance wetlands, and to build stormwater management features on your property to protect local water quality."
The Ontario Community Environment Fund provides government grants for local projects to help protect and restore the environment. These grants go to communities, municipalities, conservation authorities, not-for-profit organizations, schools, colleges, universities, and First Nation and Métis organizations. Projects eligible under OCEF focus on: increasing environmental restoration and remediation activities which repair environmental harm, and resilient communities and local solutions to environmental issues.
The Province of Ontario collects funds from environmental penalties and those funds are used for local projects that support the restoration of areas impacted by the effects of pollution. To learn more about the Ontario Community Environment Fund (OCEF) visit the Ontario Community Environment Fund web page:
Share this article >