Stewardship, conservation in South Huron
This was our third #AusableBayfield75th municipal feature article, in a series.
This was first released on July 23, 2021:
Featured Municipality – South Huron
South Huron's stewards, volunteers, communities make positive difference in Ausable Bayfield watersheds
Communities and volunteers have created and improved trails in South Huron and landowners have used innovative conservation methods to protect soil, water
By Abbie Gutteridge, Chair, Ausable Bayfield Conservation 75th Anniversary Committee
The Municipality of South Huron has a variety of landscapes – from acres of farmland, to forested trails, to urban centres and lakeshore communities. This diverse area has been shaped by the people who call it home.
The Ausable Bayfield Conservation Authority (ABCA) Administration Centre office has been located in South Huron for 75 years, first in Exeter, and then at the Morrison Dam Conservation Area east of Exeter since 1983. During this time, ABCA has had the privilege of working closely with the communities in South Huron on projects that benefit the entire municipality and the greater watershed.
Staff from ABCA have enjoyed working with many farmers on stewardship efforts throughout the municipality. Farms in Usborne and Stephen were among the early adopters of no-till and conservation tillage practices, with support from conservation programs. Always innovators, today many South Huron farmers have added cover crops to their rotation to improve soil health and productivity and help water quality. This not only benefits the crops, but also helps to reduce erosion and sediment in local streams, rivers, and Lake Huron.
When visiting MacNaughton Park in Exeter, Ontario you will find the start of the MacNaughton-Morrison Section of the South Huron Trail. This eight-kilometre trail follows the Ausable River and circles Morrison Reservoir, making it a scenic hike with diverse wildlife.
The MacNaughton-Morrison section of the Trail was constructed in 2002 as a partnership between several organizations in the community including: Ausable Bayfield Conservation Authority; Ausable Bayfield Conservation Foundation; Exeter Lions Club; the Municipality of South Huron; local landowners; and many other community supporters.
In 2018, Jones Bridge (dedicated by Donna Jones, in loving memory of Ted Jones) was built to connect the sections of the trail and allow walkers a safe way to cross the Ausable River. This bridge was made possible by generous donors and volunteers and is a testament to the spirit of community in South Huron!
The Friends of the South Huron Trail, formed in 2005, is a group of local volunteers who care for the trail and community by hosting cleanup days and events, fundraise for the trail and provide support that increases opportunities for people with limited mobility to experience nature on the trail. This group continues to help make this trail a benefit to the health and well-being of the South Huron community.
These are just a few examples of positive partnerships that have developed over 75 years, and we look forward to the next 25 years of working with the communities of the Municipality of South Huron!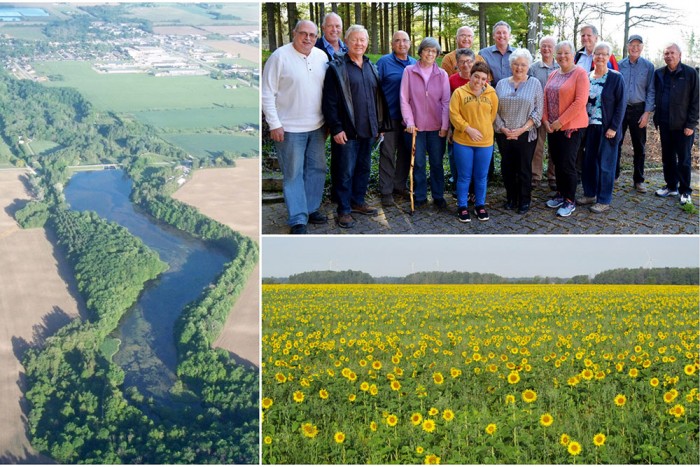 MUNICIPAL PROFILE SERIES FEATURES SOUTH HURON: During 2021, the 75th anniversary year for Ausable Bayfield Conservation Authority (ABCA), we are doing regular profiles of some conservation work in the communities of each of ABCA's 12 member municipalities. Today's featured municipality is the Municipality of South Huron. In this collage of three photos, we see (clockwise from left); tree planting and stewardship in South Huron; a file photo of some members of Friends of the South Huron Trail; and some beautiful sunflower cover crops planted to help improve soil health and water quality. Congratulations to the citizens and community groups of South Huron for your contribution to 75 Years of Conservation.
– In 2021, Ausable Bayfield Conservation Authority (ABCA) is celebrating its 75th anniversary (1946-2021) and 75 Years of Conservation in partnership with the community. ABCA is honouring its 12 member municipalities, during this anniversary year, for their partnership, over the past 75 years, which helps to protect life and property, water, soil, and habitat for all living things. To learn more visit abca.ca
Share this article >