Rivers, lake off to good start in West Perth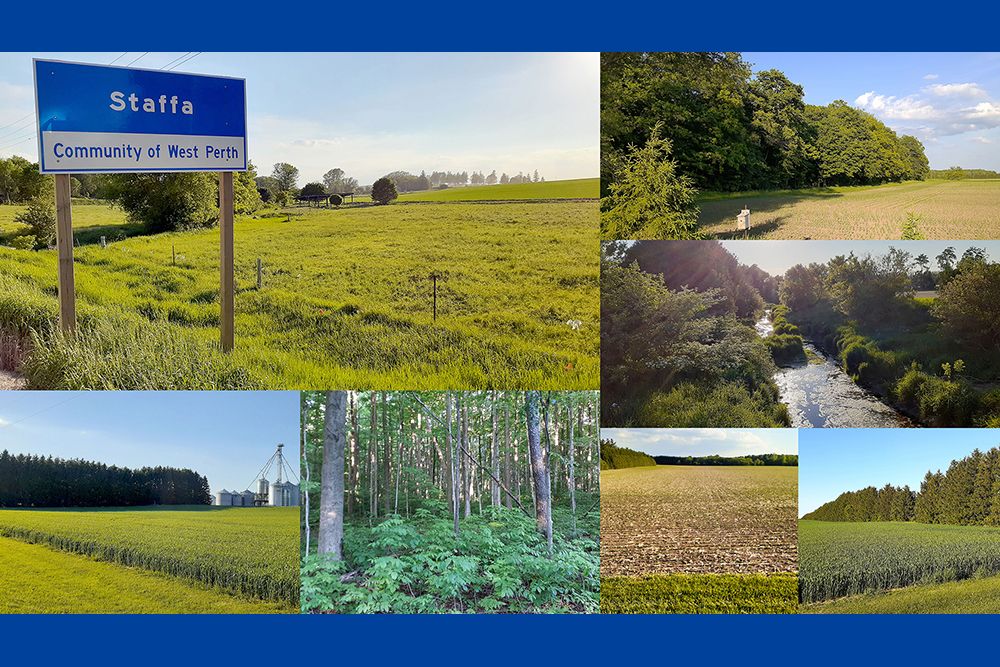 This was our second municipal feature of the #AusableBayfield75th municipal feature series, released on June 21, 2021:
Featured Municipality – West Perth
Off to a good start
by Kate Monk, Manager of Stewardship, Land and Education at Ausable Bayfield Conservation
You wouldn't know, looking at the tiny creeks in West Perth, that they will become the Ausable River that reaches Lake Huron at Port Franks, or the Bayfield River at Bayfield. The people who rely on the river, throughout its journey to the lake, owe a large measure of thanks to the landowners who work diligently to conserve the headwaters.
A drive through Hibbert Township and Logan Township shows the landscape features that help the rivers get off to a good start.
One of the most striking features are the tall, long rows of Spruce and Cedar trees.
Most of these trees were purchased from the Ausable Bayfield Conservation Authority (ABCA) Reforestation Assistance Program. Some landowners planted the trees but many hired ABCA to do the planting.
For decades, landowners have been planting tree windbreaks to prevent the wind from eroding valuable topsoil.
Many of the windbreaks stretch the entire length of a farm and are more than fifty feet tall. With lower wind velocity, the soil stays on the fields where it's needed to grow crops. Windbreaks reduce wind speeds for up to 20 times their height. Although many windbreaks are perpendicular to roads, many have been planted along roadsides. These living snow fences can reduce the amount of snow blowing across roads, thereby improving driver visibility. They also provide habitat for beneficial bird species that will eat crop pests.
Windbreaks, planted along creeks and rivers, have the added benefit of shading the water, keeping it cool for fish and other aquatic life, and keeping soil from entering the creeks. Even grassed buffers can trap soil before it reaches the creek. These grassed buffers are often used by farm equipment to avoid compacting the farm fields and farm families enjoy walking along the creeks. The corridors of green provide excellent wildlife habitat.
Windbreaks that surround farmsteads are called shelterbelts. They help reduce heating costs and cooling costs while providing a more pleasant environment for livestock and farmers.
Hibbert is known for the back-forty forests; the long, linear woodlots in the middle of concessions. These include seeps and springs that feed the headwater streams. The snow stays in these woodlots a little longer in the spring to extend the spring freshet and augments base flow. Rain falling in woodlots also recharges aquifers. As an added bonus, the Sugar Maple woodlots produce maple syrup which supplements farm income.
It's not just trees that help the rivers get off to a good start. Farmers are practicing crop rotation, conservation tillage, planting cover crops and installing berms and grassed waterways to keep the soil on the fields and build soil health, making it more resilient to drought and heavy rainfall events. Every one per cent of organic matter in the soil can absorb an inch of rain.
Thanks to the landowners in the Ausable and Bayfield headwaters for their dedication to conservation!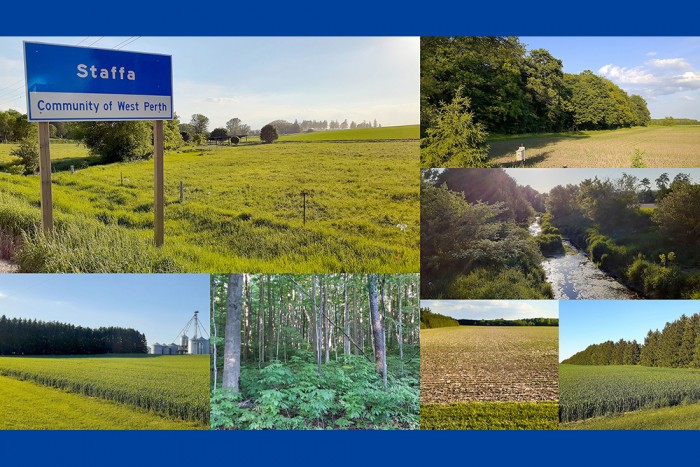 Photo collage information:
HEADWATERS STEWARDSHIP IN WEST PERTH HELPS AUSABLE, BAYFIELD RIVERS GET OFF TO A GOOD START – Ausable Bayfield Conservation Authority (ABCA) is celebrating 75 Years of Conservation in 2021, ABCA's 75th anniversary year (1946-2021). During this special commemorative year, Ausable Bayfield Conservation is celebrating community partnerships and partnerships with its twelve member municipalities. Today's featured municipality is the Municipality of West Perth. In this photo collage of seven photos, we see (clockwise from top left): 1. The Staffa sign in the headwaters of the Ausable and Bayfield Rivers; 2. A forest in the 'Back 40'; 3. A buffer in West Perth; 4. A West Perth windbreak; 5. Conservation tillage in West Perth; 6. A West Perth forest; and 7. A shelterbelt in West Perth.
Tiny creeks in West Perth turn into the Ausable River reaching Lake Huron at Port Franks and into the Bayfield River at Bayfield. Therefore, Ausable Bayfield Conservation is thanking all the landowners using best management practices and stewardship to conserve the headwaters. Tall, long rows of Spruce and Cedar trees are among the features that help give the rivers a good start. Tree windbreaks and 'living snow fences' in West Perth help to preserve valuable topsoil from wind erosion. Grassed buffers trap soil before the creek. Forests in the 'back 40' include seeps and springs that feed headwater streams. Trees, conservation tillage, cover crops, berms, and grassed waterways all help to build soil health which helps in times of drought and times of heavy storms. Ausable Bayfield Conservation is thanking West Perth landowners for helping to give the rivers and lake a great head start.
(Photos by Kate Monk)
Share this article >