Perth South municipal feature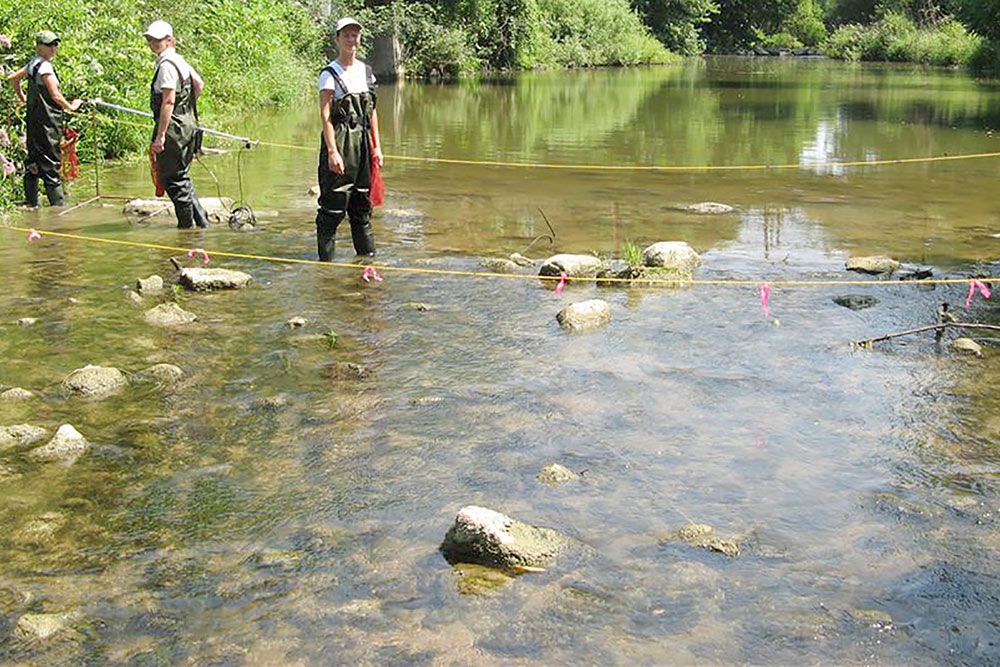 Perth South plays important role in Ausable River headwaters
Stewardship work in Perth South helps to protect mussels downstream
By Shevaun Verhoog, Aquatic Resource Technician, Ausable Bayfield Conservation
While most of the Township of Perth South drains toward Lake Erie, and only a small portion of the township is located in the Ausable Bayfield watershed (draining towards Lake Huron), the area is an important one as it contributes to the headwaters of the Ausable River.
Tributary streams along Highway 23, between Woodham and Whalen Corners, form the headwaters of the Little Ausable River. The Little Ausable runs through the Township of Lucan Biddulph before joining and becoming the Ausable River. This river eventually reaches Port Franks where it drains into Lake Huron. These streams are starting points for the lives of many animals. Some of these aquatic creatures are classified as species at risk, due to a decline in their populations.
Species found in the area include freshwater mussels. Freshwater mussels spend most of their life buried in the streambed. Freshwater mussels are similar to clams. They are known as bivalves. This means they are two shells attached on a hinge.
Mussels filter through water for their food and, as a result, they can act as indicators for water quality based on changes in their populations. In the Ausable River we find 26 different species of freshwater mussels. Six of those species are considered species at risk. These include the Kidneyshell; Snuffbox; Northern Riffleshell; Wavy-rayed Lampmussel; Rainbow Mussel; and Mapleleaf Mussel. These animals prefer clean, cool, and flowing water as their habitat, and can live for many years. They are vulnerable to changes in water quality, such as an increase of pollution or siltation. Decreases in the water quality can result in a decline in the freshwater mussel populations, as they are unable to survive significant changes to their natural habitat.
Stewardship projects within Perth South, and other municipalities within the watershed, have helped decrease runoff of soil, pollutants and sediment. Field windbreaks, tree lines, vegetative buffer strips, and berms all help slow the flow of water running off into the streams. This helps maintain critical habitat for these species at risk. Projects like these can have impacts on the streams adjacent to where they are but can also influence the lives of species living all along the Ausable River.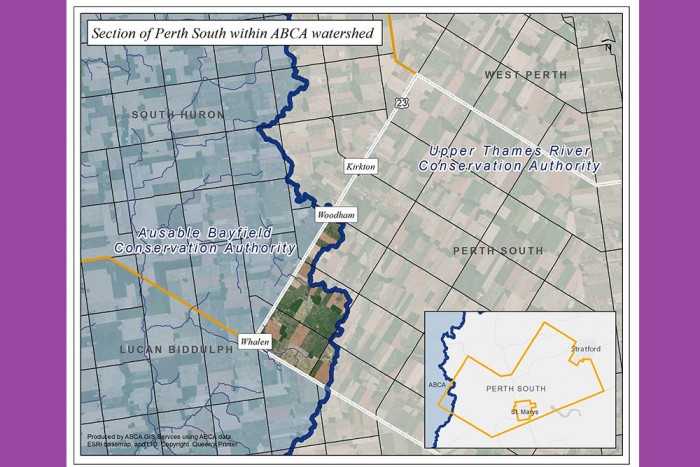 Ausable Bayfield Conservation Authority celebrates its 75th anniversary (1946-2021) this year and we want to recognize projects and partnerships since 1946 in our 12 member municipalities. Today we thank the Township of Perth South, and participating landowners, for their decades of stewardship and partnership. We look forward to continuing biomonitoring research and stewardship projects in Perth South and our other watershed municipalities, over the next 75 years!
– In 2021, Ausable Bayfield Conservation Authority (ABCA) is celebrating its 75th anniversary (1946-2021) and 75 Years of Conservation. ABCA is honouring its 12 member municipalities, during this anniversary year, for their partnership, over the past 75 years, which helps to protect life and property, water, soil, and habitat for all living things. To learn more visit our #AusableBayfield75th Anniversary web page: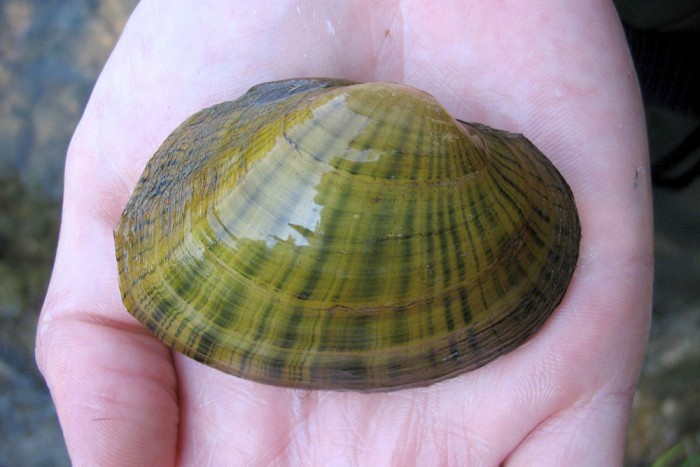 PHOTO ABOVE:
The Wavy-rayed Lampmussel is a local freshwater mussel species at risk. Positive stewardship actions by landowners and residents in the Township of Perth South help to protect this and other species.
PHOTO AT TOP OF PAGE:
In this photo, Ausable Bayfield Conservation staff members monitor mussel populations in the Little Ausable River, downstream of the Township of Perth South. Stewardship projects by participating landowners in the Township of Perth South help to reduce runoff and protect aquatic species at risk.
Share this article >