Jones Bridge Grand Opening, Ribbon Cutting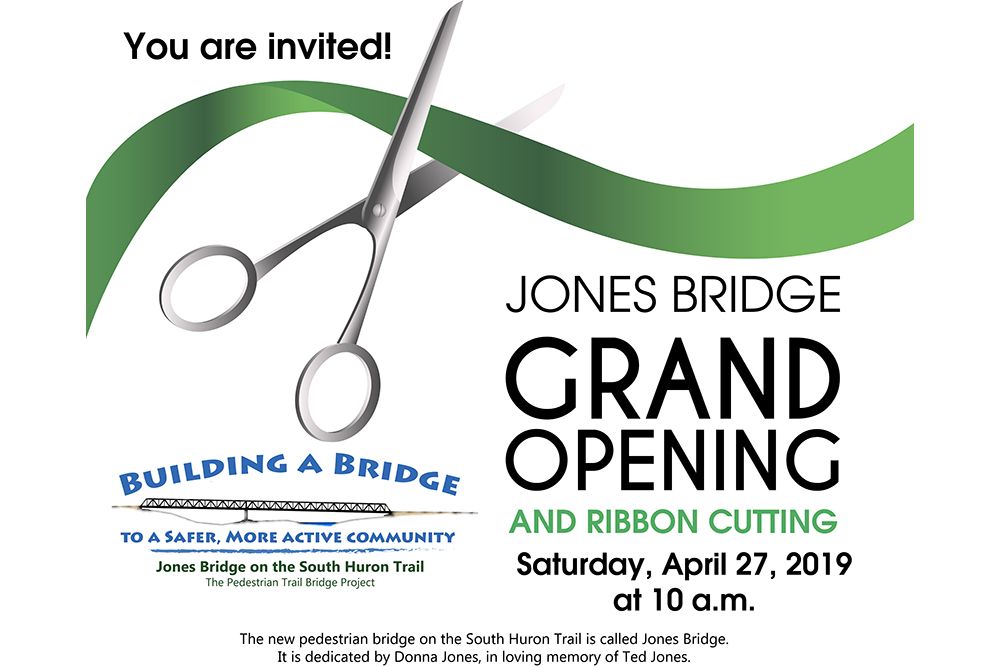 Pedestrian Trail Bridge Community Working Group to thank donors at Jones Bridge Grand Opening, Ribbon Cutting
Public invited to short ceremony on Saturday, April 27, 2019 at 10 a.m.; Event to recognize generosity of municipality, individual donors, community groups, businesses
Project organizers say the public has been incredibly generous in support for the project to build a bridge to a safer, more active community with the creation of Jones Bridge, a new Pedestrian Bridge on the South Huron Trail. The total capital cost of the Jones Bridge Project is more than $300,000 and donations and pledges have helped the Pedestrian Bridge Community Working Group get closer each day to reaching the fundraising goal.
The community working group, and Ausable Bayfield Conservation Foundation, want to thank everyone who has supported the project. They are to express their thanks at a Grand Opening and Ribbon Cutting for Jones Bridge on Saturday, April 27, 2019 at 10 a.m. The event will take place rain or shine, starting north of Jones Bridge, at the new stairway built in memory of Brian Clarke.
"This project was the community working together," said Dave Frayne, Chair of the Pedestrian Trail Bridge Community Working Group. "Many people shared the dream of building Jones Bridge and they showed their commitment through their generosity."
Donors to the bridge project include the Municipality of South Huron; individual donors; service clubs and community groups; the South Huron Trail Fundraiser Golf Tournament; businesses; families; and students.
People can now cross the Ausable River, and enjoy both trail sections, without walking beside vehicle traffic on Morrison Line. "That's what it's all about, making the community safer and more active," the Chair said.
The pedestrian bridge was installed downstream of Morrison Dam in late 2018 and it is open for use. The stairs, donor recognition pergola, trail linkages, and site restoration are being finished this spring.
The bridge is called Jones Bridge as it is dedicated by Donna Jones, in loving memory of Ted Jones, who was a dedicated community volunteer, conservationist, Exeter Lions Club member and Ausable Bayfield Conservation Foundation director.
The community fundraising campaign is now close to its capital project target. Donations are still needed to complete the project including ancillary structures and to maintain the bridge and associated structures through a legacy bridge preservation fund.
Donations to the Jones Bridge project, made directly to Ausable Bayfield Conservation Foundation, are eligible for charitable gift receipts for income tax purposes. To learn more, or to donate, visit www.abca.ca or phone 519-235-2610 or toll-free 1-888-286-2610. You are also invited to contact any of the members of the community working group. Their names are in the bridge brochure available online and in printed copies.
For more details about the Grand Opening and Ribbon Cutting for Jones Bridge please visit the pedestrian trail bridge website at this link:
Share this article >