Bridge donation in Brian Clarke's memory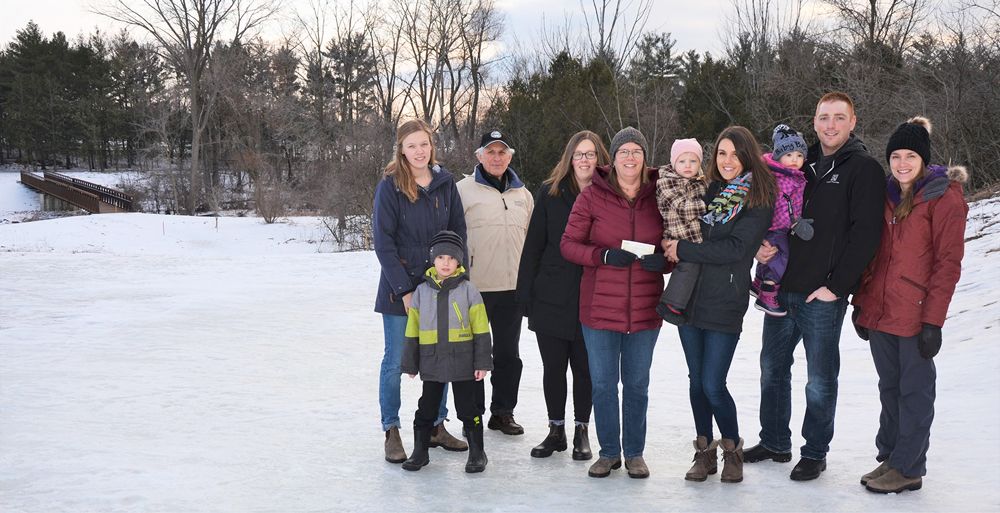 Donation in Brian Clarke's memory to stairs for new pedestrian bridge on the South Huron Trail
The family of the late Brian Clarke has made a generous donation of $5,000, in Brian's memory, to help make the community safer and more active through the Jones Bridge Project. The platinum-level donation will go towards the construction of stairs linking the South Huron Trail with the new pedestrian bridge.
Brian's wife, Barb Down, and other family members were at the future site of the bridge stairs, near Exeter, to present the cheque to Ausable Bayfield Conservation Foundation. Shown in photo, from left to right, are Jaimee Clarke; Cohen Meidinger; Tom Prout (a Foundation director and member of the Pedestrian Bridge Community Working Group, accepting the cheque on the Foundation's behalf); Jillian Clarke; Barb Down; Justine Clarke, holding Bria Meidinger; Shayne Mudge, holding Sawyer Mudge; and Janelle Mudge.
Thanks to the new bridge – and the stairs and other structures to be built to connect to the bridge – people will no longer have to walk beside vehicles on the Morrison Line roadway in order to enjoy both sections of the South Huron Trail.
Fundraising is continuing to meet the fundraising goal to complete the Jones Bridge Project. To donate or to learn more visit abca.ca or phone 519-235-2610 or toll-free 1-888-286-2610.
Donate now:
Share this article >