Quilter is Dinner Feature Artist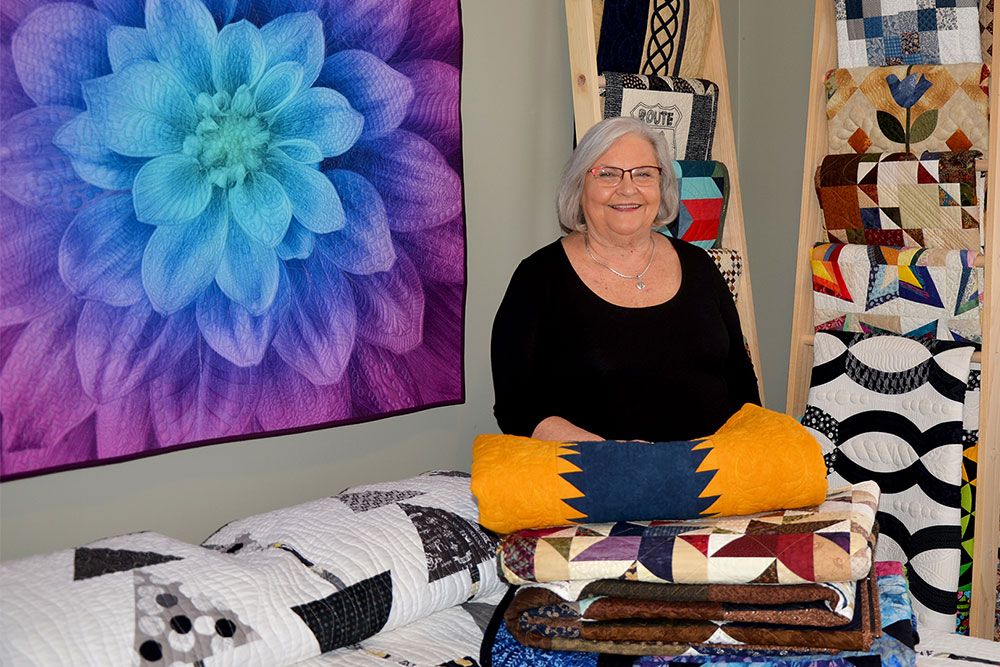 Diane Carson is first quilter named Dinner Feature Artist
Virtual Conservation Dinner names Diane Carson, of Exeter, as Feature Artist of 2022 online charity auction fundraiser
The Conservation Dinner Committee has announced the Feature Artist, of the 2022 charitable online auction event, is Diane Carson, of Exeter. She is the first quilter to receive this honour. Diane is known as The Electric Quilter. She is a longarm quilter. A longarm quilter uses a longarm sewing machine to sew together pieces (such as quilt tops and batting and backing) into a finished quilt. As a longarm quilter she "takes an idea that is inside a client's imagination and makes it a reality."
This year's feature art piece is a beautiful quilt of a lion's face. Diane is a member of the Exeter Lions Club and the Lions Club nominated her as this year's feature artist. She took a Violet Craft pattern and expanded upon it to create a visually impressive finished product that is a stunning example of her artistry and workmanship.
"I am honoured to be named as the 2022 Feature Artist," Diane said. "I also feel it is wonderful that this year's Feature Art is a quilt that honours the Lions Club and its service to the community."
The Exeter Lions Club has been a partner in the Conservation Dinner for more than three decades. Exeter Lions Club was chartered in 1937. It is part of Lions Clubs International, known as "the largest service club organization in the world."
The Lions Club is a group of service-minded men and women banded together to do things which cannot be done by individuals working alone. Exeter Lions Club has actively fundraised for projects including development and maintenance of South Huron Trail, MacNaughton Park, and other nature and conservation projects. These are just some of the examples of their service in action.
The 2022 Feature Artist has been quilting since 1999 and she is one of Ontario's first longarm quilters. Since then, Diane has quilted more than 4,000 quilts for clients and patrons. She is Chair of the Southern Ontario Longarm Operators Guild and a founding member of the Canadian Machine Quilters' Association (CMQA).
This year's Feature Artist has received many awards throughout Canada and the United States. Her quilt called Blueberry Cheddar received the Best Workmanship ribbon from the World Quilt Competition in 2014. That quilt also received first place in the MQX show in Manchester, New Hampshire, in 2014. It also received a first-place award in Longarm Quilting at Quilt Canada in Halifax in 2015.
Diane loves her quilting enterprise. "I love my job," she said. She gets to realize and enhance the pride and vision of her clients and she gets to be a part of important celebrations in people's lives, making wedding quilts, baby quilts, heirlooms, and quilts to mark other important milestones. It is gratifying, she said, to see people's pride in the finished work and even, in some cases, tears of joy.
"My job is to take a pieced top, enhance the design using only thread and ingenuity, and create a finished quilt," she said. "My designs and placement of them is unique, and one-of-a-kind. I try to augment and complement the designs of the tops and I like to think a part of me is infused into every quilt that comes my way."
Diane and her husband Bill have five children and seven grandchildren. "I have a wonderful husband who supports me in what I do with never a complaint," she said.
Diane works collaboratively with her friend Anne Beaudoin and calls Anne "the best quilt piecer in the world." Diane and Anne received a Viewer's Choice ribbon at the Heritage Celebration Show in Lancaster, Pennsylvania in 2004. Diane was sole quilter for Anne's 'Fabrications' show at Homer Watson House and Gallery in Kitchener, Ontario in 2006.
The Conservation Dinner is a partnership of the Ausable Bayfield Conservation Foundation and Exeter Lions Club. This dinner and auction charitable fundraising event started in 1990. Net profits are split evenly between community conservation projects of the Foundation and community conservation projects of the Exeter Lions Club. The event has raised more than $1.255 million for the community over more than 30 years.
Projects supported by the Dinner include community work by the Lions Club and community work by the Conservation Foundation.
These projects, supported by auction sponsors and donors and bidders and volunteers, are many. They include parks and conservation areas; accessible nature trails in Bayfield, Clinton, Parkhill, Lucan, Arkona, Exeter, and Varna; outdoor nature education; a $1,000 student environmental bursary for students in local communities; a summer job at Ausable Bayfield Conservation for a senior secondary school student; turtle monitoring in Port Franks and Ailsa Craig; aquatic habitat studies in Old Ausable Channel at Grand Bend; recreation opportunities such as a family fishing derby; and other projects.
The Dinner Committee plans to host two live TV and Internet broadcasts to kick off and cap off the auction week:
The broadcasts are scheduled for 7 p.m. on Thursday, March 31, 2022 and at 7 p.m. on Thursday, April 7, 2022 (the last day of auction week).
A video featuring this year's Feature Artist is scheduled for the March 31 broadcast.
The #VirtualConservationDinner online auction begins on Thursday, March 31, 2022 and ends on Thursday, April 7, 2022 at 9 p.m.
You may find out more at abca.ca and conservationdinner.com or phone 519-235-2610 or toll-free 1-888-286-2610.
To learn more about the online auction, or the feature fundraising dinners of participating local partner restaurants, visit the Conservation Dinner website:
For the online auction link, when it is live on March 31, visit the online auctions page:
A link to the online auction will be posted on the online auction page when the online auction begins March 31.
The photo below is of Diane Carson's Feature Art, a Lion Quilt: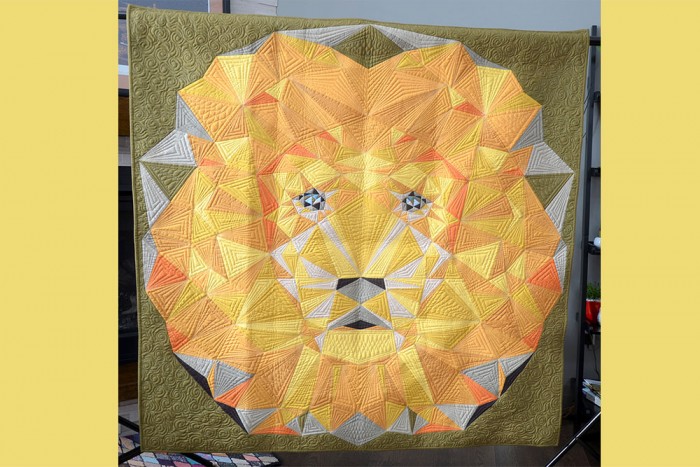 Share this article >