Flood Emergency Planning Meeting 2022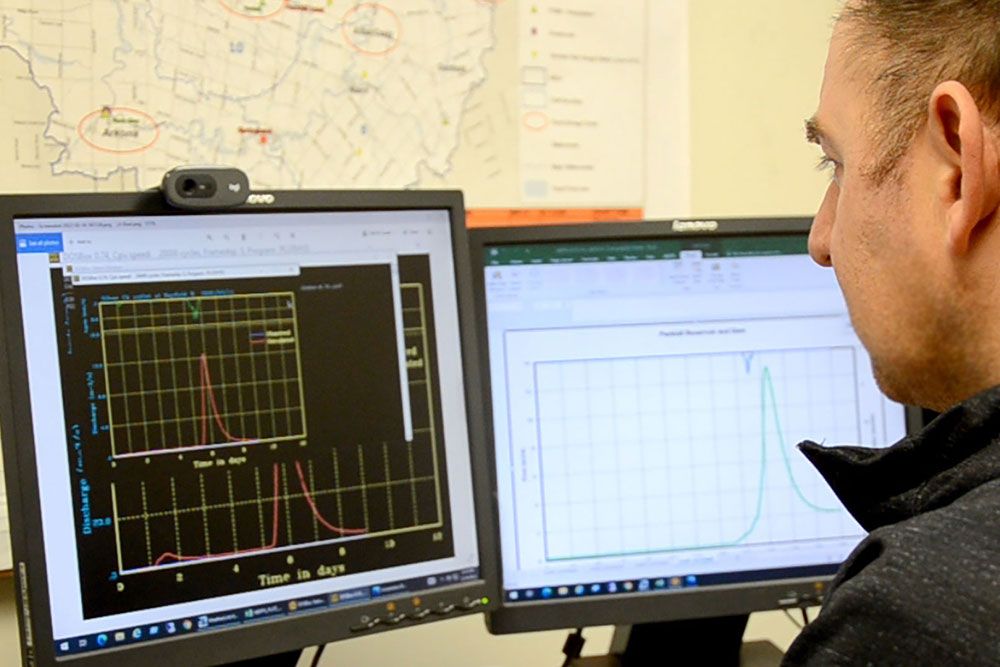 Local agencies meet for Flood Emergency Planning
Community Emergency Management Coordinators among more than 30 participants at annual Flood Emergency Planning Meeting held virtually in 2022
More than 30 people, including municipal Community Emergency Management Coordinators; local public health; police; and municipal personnel, took part in the annual Flood Emergency Planning Meeting. Ausable Bayfield Conservation Authority (ABCA) hosted the meeting, virtually, on February 22, 2022. Recordings of presentations to the meeting are on the Ausable Bayfield Conservation YouTube channel.
Davin Heinbuck, ABCA Water Resources Coordinator, outlined ABCA's Flood Emergency Plan and the roles and responsibilities of the conservation authority, municipalities, and the Province of Ontario (through the Ministry of Northern Development, Mines, Natural Resources and Forestry).
He also outlined the different levels of flood messages including Watershed Conditions Statements – Flood Outlook and Water Safety; Shoreline Conditions Statements (for flooding and erosion); Flood Watches; and Flood Warnings. To learn more visit the flood messages page.
The three most common types of flood events in ABCA watersheds are heavy rains; rain and snowmelt; and ice jams, he said. There has also been coastal flooding along Lake Huron's shoreline especially during the recent period of relatively high lake levels near record highs or at record monthly high levels. He also provided an overview of recent watershed conditions.
Ross Wilson, ABCA Water and Soils Resource Coordinator, provided an overview of the history, design and operations of the Parkhill Dam. He said the dam and diversion channel are integral parts of flood management on Parkhill Creek. About one third of the acreage in the Parkhill Creek Watershed has been protected by the dam since its creation in 1969, he said. ABCA staff are active in operation, maintenance, repair and monitoring of the dam structures which help to protect downstream infrastructure, and Parkhill properties, during flood events.
Tommy Kokas, ABCA Water Resources Engineer, reviewed flood events and responses in 2021. He focused on the watershed's major flooding event of last year which was a heavy rainfall event in September. He said that event was a large and slow-moving low-pressure system which drew in warm moisture from the Gulf of Mexico. It brought heavy rains to the ABCA watershed in a short period of time.
Precipitation totals averaged between 90 and 130 millimetres (mm) in a 24-hour period and the Parkhill area received record streamflow. The heavy and intense rains, combined with saturated soil conditions, caused flash flooding of fields and washouts on some local roads. Riverine flooding resulted in some road closures and staff operated Parkhill Dam for six days.
New video describes role of snowpack monitoring in flood program
Ausable Bayfield Conservation Authority (ABCA) has created a new video about the monitoring of snowpack density and the importance of this snow survey data to the Flood Forecasting and Warning program.
The video features ABCA staff conducting the monitoring of the snowpack including measurement of the water equivalent in the snowpack.
The video also explains how this snow course data is needed (along with water level, weather, and precipitation data) for flood forecasting and warning for municipalities and agencies.
The snow monitoring answers questions such as:
How deep is the snow?
How much water is in it?
How much water can it hold?
The snowpack monitoring video is posted to social media channels including Facebook and Ausable Bayfield Conservation's YouTube channel.
Share this article >