Lucan Biddulph Municipal Feature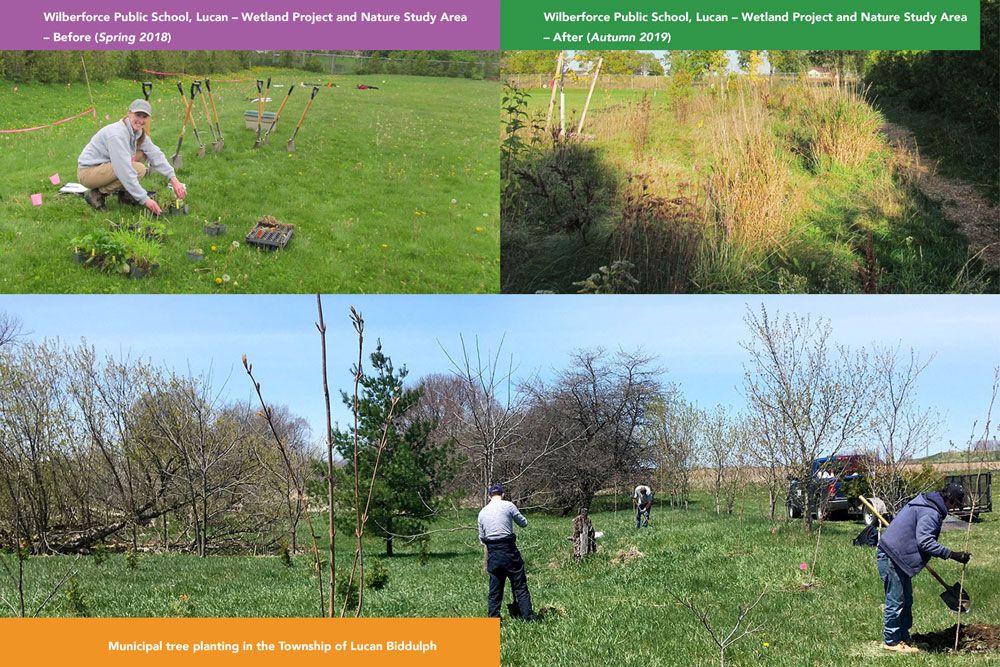 Conservation remains strong focus in Township of Lucan Biddulph even as community grows
By Shevaun Verhoog, Aquatic Resource Technician, Ausable Bayfield Conservation Authority (ABCA)
The Township of Lucan Biddulph is not only the home of several tributary streams that contribute to the Little Ausable River but it is also the home of a growing number of residents. As development continues to boom in Lucan Biddulph, the municipality continues to foster its close relationship with Ausable Bayfield Conservation Authority (ABCA).
"We consider the ABCA partners in our growth," said Ron Reymer, longtime Chief Administrative Officer (CAO) at the Township of Lucan Biddulph. "We all have an interest in making sure things get done correctly."
Reymer has worked for the township for more than 30 years. He said that, in those three decades, he and the township have developed a close working relationship with the conservation authority and its staff. He said Ausable Bayfield Conservation and the township have similar philosophies of finding cooperative and partnership solutions. "We try to work with people, to sit down together and figure it out," he said.
Some of the most notable projects over his past 30 years working with ABCA include the two-zone flood mapping done in the 1990s. Other projects have included numerous tree planting projects that have taken place behind municipal buildings. Each year, the Township of Lucan Biddulph buys trees for the parks and roadsides tree replacement initiative. Two trees are provided for every tree removed under their roadside tree replacement program. "Every year we buy trees and every year, from storms or from age, some trees need to come down," he said. "Our policy is that when we remove a tree we plant two trees."
The council, staff, and ratepayers of Lucan Biddulph have made local conservation a priority.
The students of Wilberforce Public School, Lucan, showed they were Watershed Champions by doing a project at their school. To watch the video about the Wilberforce Wetland Project and Nature Study Area visit this link:
Ausable Bayfield Conservation's Annual Reports, over the years, document many stewardship projects each year by participating landowners in Lucan Biddulph. There is great value to these projects, which combine the investments of participating property owners with those of funding partners. There are benefits in economic terms of project value and in terms of protecting the watershed resources upon which we rely. These actions protect water quality, soil health, and habitat for the native fish species of the Little Ausable River.
Some of Lucan Biddulph's residents have been recognized as Conservationists of the Year. For instance, Paul and Vic Hodgins, owners of Shadyside Farms, were winners in 2005. The award winner the next year was the Middlesex Eco Crew, nominated by the Township of Lucan Biddulph. The Eco Crew helped Lucan Biddulph municipal staff remove four truckloads of illegally-disposed garbage from a steep riverbank on Fallon Drive, north of Lucan, over three days.
These are just some examples of Lucan Biddulph putting conservation into action. There are many more.
Ausable Bayfield Conservation is celebrating its 75th anniversary (1946-2021) in 2021. The conservation authority looks forward to continuing to protect and enhance watershed resources through a close and productive working relationship with all of its 12 member municipalities, including Lucan Biddulph's council, staff, and residents.
– In 2021, Ausable Bayfield Conservation Authority (ABCA) is celebrating its 75th anniversary (1946-2021) and 75 Years of Conservation. ABCA is honouring its 12 member municipalities, during this anniversary year, for their partnership, over the past 75 years, which helps to protect life and property, water, soil, and habitat for all living things.
To learn more visit abca.ca and this web page:
#AusableBayfield75th
Share this article >