Leaving living legacies in Grand Bend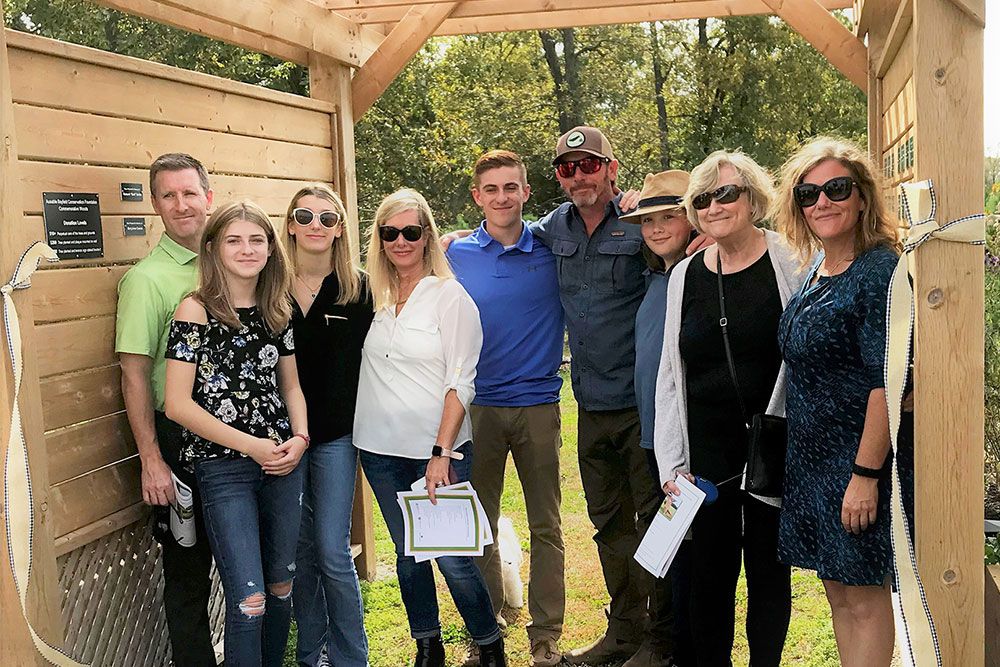 Klondyke Commemorative Woods creates living legacies in Grand Bend
Planting trees is a time-honoured way of paying tribute to loved ones and celebrating special events. Thanks to the newly created Commemorative Woods at Klondyke Park, Grand Bend will now have a space where people can create living memorials.
The Klondyke Commemorative Woods is a partnership between Ausable Bayfield Conservation Foundation; the Municipality of Lambton Shores; and the Lakeshore Eco-Network. The planting is now complete, with almost 200 trees planted by Ausable Bayfield Conservation Authority (ABCA). The Woods consists of groves of various native species, including White Pine; White Cedar; Sugar Maple; Red Maple; Red Oak; Chinquapin Oak; White Oak; and Sycamore. The trees will be cared for by ABCA staff.
When the opportunity arose to support the project, the Rotary Club of Grand Bend made it a part of Autumn Indulgence, the Club's gala fundraising event. After the success of its water refill station project, the Rotary Club was looking for another project that benefitted both the environment and the community. Some $36,000 for the planting of memorial groves was raised at Autumn Indulgence, giving the project a huge boost.
The Lakeshore Eco-Network, thanks to a Community Vibrancy Grant, erected an arbour to mark the entrance to the Woods and also house the plaques for the founding donors. On the arbour is mounted a sign, 'Winters Walk,' in memory of Hank Winters, one of the founders of the Lakeshore Eco-Network, who was the inspiration for this project. "Hank was a great believer in the importance of planting trees to help fight climate change and enhance biodiversity," said Lakeshore Eco-Network Chair Max Morden.
With the planting complete, Ausable Bayfield Conservation Foundation offers the opportunity to donors to sponsor individual trees in memory of loved ones. Abbie Gutteridge is Secretary for Ausable Bayfield Conservation Foundation. "We have five other Commemorative Woods sites in our area, and now we are extremely pleased to have one in Grand Bend," she said. "This will fulfill a need that will help the entire community."
The Commemorative Woods also has important, long-term benefits. "There are so many reasons for planting trees," said Ian Jean, Forestry and Land Stewardship Specialist at Ausable Bayfield Conservation Authority, who planted the trees. "They have environmental benefits, such as sequestering carbon, creating wildlife habitat and protecting against soil erosion, but also in recognition of milestones and loved ones, and in building community and a legacy for future generations."
Share this article >