North Middlesex Municipal Feature Part Two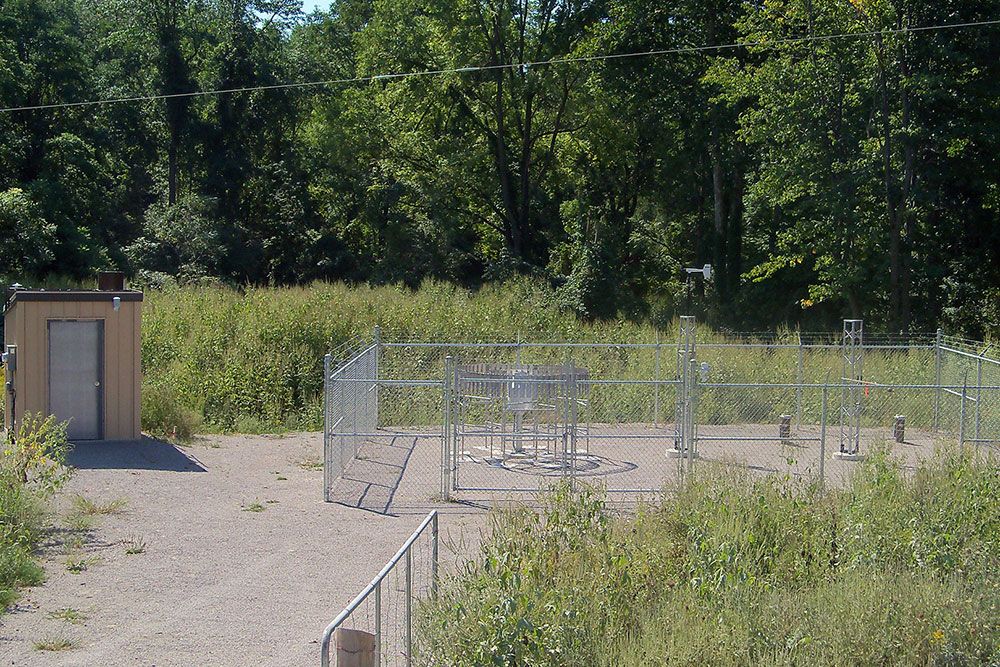 Part Two: Parkhill Integrated Water and Climate Research Station
North Middlesex home to climate change station
By Tommy Kokas, Water Resources Engineer, Ausable Bayfield Conservation Authority
Ausable Bayfield Conservation Authority (ABCA) completed an assessment to evaluate sub-watershed sensitivity to climate change based on the approach developed in the 2009 Climate Change Monitoring Networks Review Project. The Parkhill Creek sub-watershed was identified as one of the sub-watersheds most sensitive to climate change in Ontario.
In 2011, the Parkhill Creek watershed was selected as one of seven provincial sites for the installation of an integrated climate change monitoring station. In 2012, construction was complete and the station became operational, alongside the long-term flow monitoring station: Parkhill Creek (above Parkhill Reservoir).
The development of the Integrated Water and Climate Research Station was funded through the Canada-Ontario Agreement (COA), by the Ontario Ministry of the Environment (now Ministry of the Environment, Conservation and Parks or MECP). The initial investment from the Province of Ontario was nearly $100,000, with ongoing funding for the operation of the station.
The Parkhill station is the most comprehensive climate station in the Province, with 29 sensors, measuring 33 different parameters. Parameters include both surface and groundwater quality and quantity, meteorological conditions, and soil conditions. Most of the sensors used at this station transmit data through the Geostationary Operational Environmental Satellite (GOES Satellite) to the Ontario Ministry of Natural Resources and Forestry (MNRF). Data collected from MNRF is displayed in a database called Water Information Systems by KISTERS (or WISKI), for further use.
In addition, ABCA and MECP have partnered with the University of Guelph on several projects to model the watershed. Highlighted work includes the development of a watershed model, water budgets, and how the watershed may be affected by climate change. Results indicate that climate projections for mid-century show the potential for significant changes in surface flows, but not substantial changes in the groundwater exchange.
Projects continue to build off these foundational works, including ongoing research into surface water and groundwater interactions, and nutrient transport.
The leading-edge provincial research taking place in North Middlesex is one of many important projects in the municipality. We thank all the partners who make work like this possible.
We hope you enjoyed our municipal feature, in two parts, and thanks again for your important role in 75 Years of Conservation.

– In 2021, Ausable Bayfield Conservation Authority (ABCA) is celebrating its 75th anniversary (1946-2021) and 75 Years of Conservation. ABCA is honouring its 12 member municipalities, during this anniversary year, for their partnership, over the past 75 years, which helps to protect life and property, water, soil, and habitat for all living things.
To learn more visit abca.ca and this web page:
Share this article >