Support community through 50-50 draw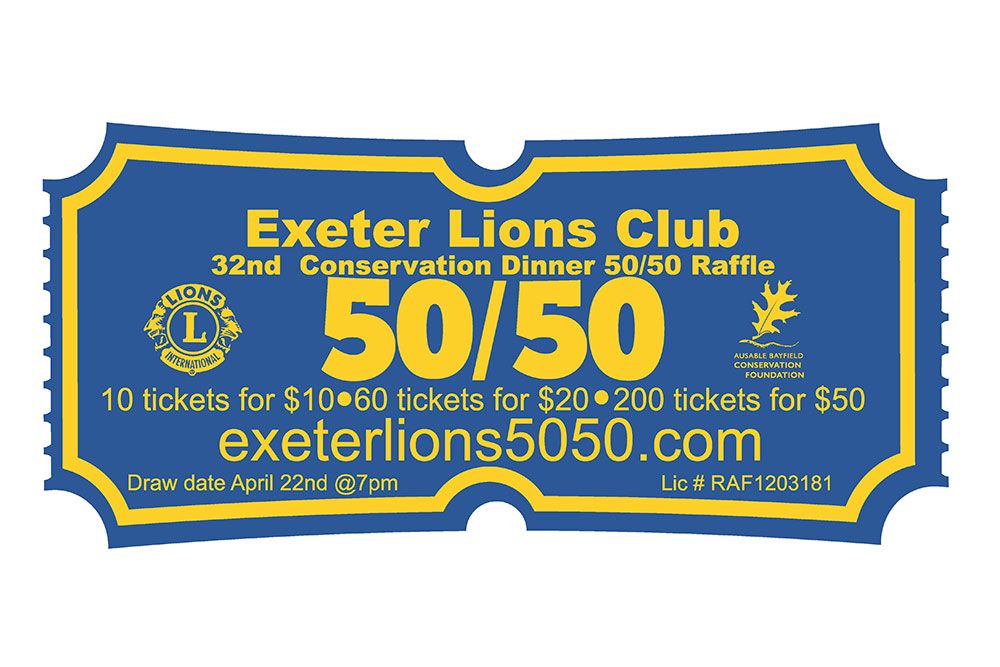 Exeter Lions Club brings back 50-50 draw for third year
Winning ticket to be drawn on April 22, 2021 during April 15-22 online auction; You may buy your 50-50 ticket through Lions Club web page
The Exeter Lions Club held its first 50-50 draw, for community projects supported by the Conservation Dinner, in 2019. The Dinner and Auction is online this year (2021) but the Lions Club is bringing back the 50-50 draw for the third year. The winner will be drawn, virtually, on April 22, 2021 (Earth Day) at 7 p.m.
You can buy ten tickets for $10; 60 tickets for $20; or 200 tickets for only $50.
You can purchase the tickets online, easily and safely, through the Exeter Lions Club 50-50 draw web page at ExeterLions5050.com.
Tickets are all sold electronically through the website and tickets are emailed to the buyer once purchased.
Buying a 50-50 ticket online is a way to support community projects while still practicing safe social distancing. "We are proud to be able to support needed community projects through the 50-50 draw," said Mark Keller, President of the Exeter Lions Club. "This is just one of the ways the Exeter Lions Club helps our local community," he said. "It's really a win-win when people have a chance to win a big prize and are able to help their community all at the same time."
Organizers say supporting the 50-50 draw is a great way to support local community projects even when some live events are postponed until next year. Virtual Conservation Dinner Committee Chair Dave Frayne thanks the Exeter Lions Club for bringing back this additional way to support parks and recreation and conservation projects in the community.
"The Lions Club has been Ausable Bayfield Conservation Foundation's partner on the Conservation Dinner for 30 years and even though the Dinner and Auction event is online this year, the Exeter Lions are finding ways, like the 50-50 raffle draw, to support their community."
The Conservation Dinner is online this year as a #VirtualConservationDinner. This fundraiser is a community success story that has raised more than $1.2 million in net proceeds in support of parks and recreation, trails, family-friendly fishing derby, nature education, and other projects in local communities in an area from Exeter to Port Franks to Bayfield and all points in between.
Visit conservationdinner.com and the online auction web page at https://conservationdinner.com/online-auctions/ for the Virtual Conservation Dinner online auction with bidding between April 15 and 22.
The draw of the 50-50 winner is to be shared on April 22 during the last day of the online bidding period.
The Virtual Conservation Dinner Committee encourages you to bid, between April 15 and 22, at the first #virtualconservationdinner online auction.
The organizers say it's a chance to get some amazing items and experiences and to support projects in your local communities. Visit conservationdinner.com/online-auctions to find out more.
Share this article >