Muskrats
Thursday, March 25, 2021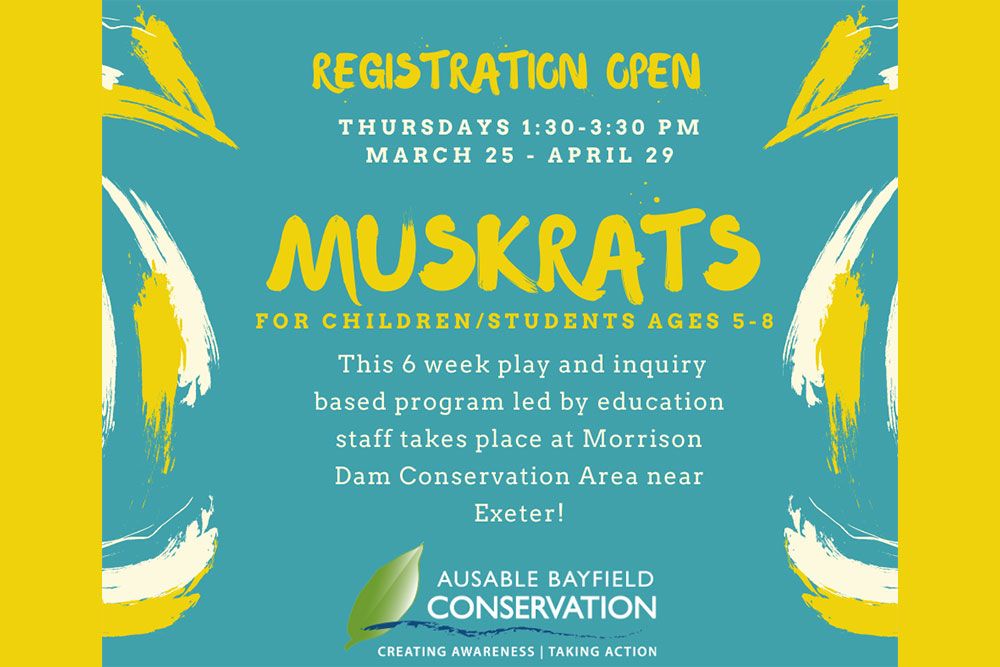 Muskrats
PLEASE NOTE TIME CHANGE: Muskrats is now offered from 1:30 p.m. to 3:30 p.m.
Muskrats (ages 5-8)
Space is limited to 12 students (maximum) or 10 students (minimum). Pre-registration is necessary.
Time: Thursdays from 1:30 p.m. to 3:30 p.m.
Cost: $130 per child/ 6 week session
There are two sessions of Muskrats.
The first spring session runs on Thursdays from March 25 to April 29, 2021.
The second spring session runs on Thursday from May 6 to June 10, 2021.
Muskrats Spring 1: March 25 - April 29
Muskrats Spring 2: May 6 - June 10
To register for Muskrats:
March 25 - April 29
May 6 - June 10
To find our more visit the conservation education pages:
NEW Multi-Week Programs for Outdoor Education at Morrison Dam Conservation Area near Exeter!
Developed and delivered by Ausable Bayfield Conservation conservation education staff, these play and inquiry based programs take place in the beautiful woods around Morrison Dam Conservation Area (71108 Morrison Line)!
Learn how to assess risk and help your child explore and deepen their relationship with nature.
The programs will take place entirely outdoors regardless of the weather (staff will contact registrants to reschedule should extreme weather conditions prevent program from taking place).
Dress for the weather and bring a snack!
To find out more contact:
Email: Denise diszczuk@abca.ca or Nina nsampson@abca.ca on our staff contacts page.
Phone: 519-235-2610 or toll-free 1-888-286-2610
Share this article >