Oaks and Acorns
Friday, March 12, 2021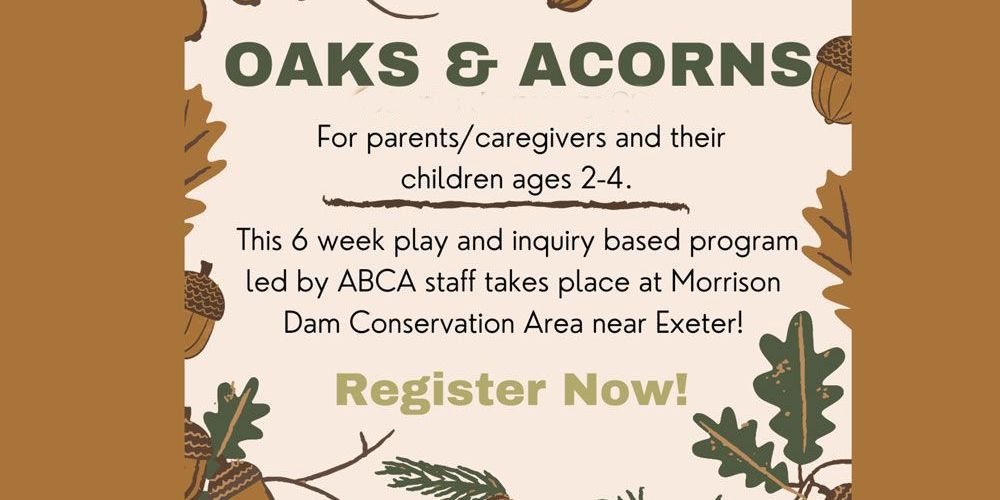 Oaks and Acorns
Oaks and Acorns starts March 12, 2021.
To learn more visit:
Oaks and Acorns (ages 2-4 years old with caregiver)
This play and inquiry based program takes place in the beautiful woods around Morrison Dam Conservation Area! Learn how to assess risk and help your child explore and deepen their relationship with nature. We meet no matter the weather. Dress for the weather and bring a snack!
This program is for parents/caregivers and children ages 2-4. Infants are welcome with older children. We recommend infants be carried/worn. Maximum two children per adult.
This program is $70 for the six-week session
Space is limited to 10 families. We require a minimum of four families to run the program.
When: Fridays to April (two sessions)
Time: 10:00 a.m. to 11:30 a.m.
Where: Morrison Dam Conservation Area; 71108 Morrison Line
Who: 2-4 years olds and an adult caregiver
Cost: $70 per family (1 adult: 2 children)
SPRING SESSION: This six-week session runs Friday March 12 to April 30 from 10:00 a.m. to 11:30 a.m. Please note we will not meet Friday, March 19 (March Break) or Friday, April 2 (Good Friday).
Registration closes Friday March 5 at 4:00 p.m.
Register now:
Share this article >