Education programs for local libraries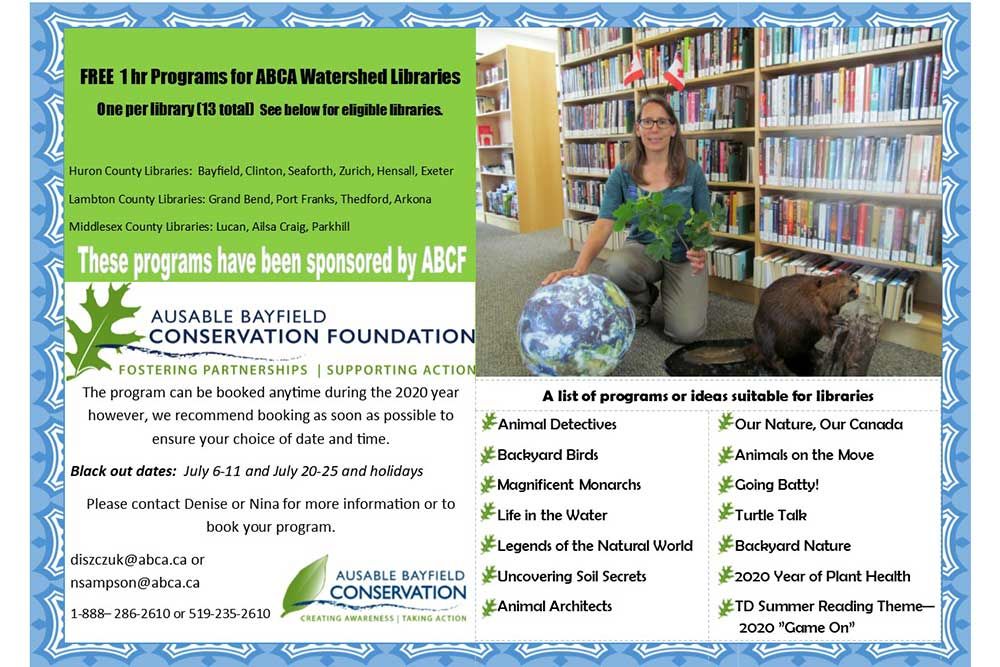 Book conservation education program for your library today
One-hour conservation education programs for local libraries can be booked anytime during the 2020 year but conservation education staff recommend booking as soon as possible to ensure your choice of date and time.
Please contact Denise or Nina for more information or to book your program at these email addresses: diszczuk@abca or nsampson@abca.ca
To learn more phone 519-235-2610 or toll-free 1-888-286-2610.
Eligible libraries are listed below:
Huron County libraries: Bayfield; Clinton; Seaforth; Zurich; Hensall; Exeter
Lambton County libraries: Grand Bend; Port Franks; Thedford; Arkona
Middlesex County libraries: Lucan; Ailsa Craig; Parkhill
Here is a list of programs or ideas suitable for libraries:
Animal Detectives
Backyard Birds
Magnificent Monarchs
Life in the Water
Legends of the Natural World
Uncovering Soil Secrets
Animal Architects
Our Nature, Our Canada
Animals on the Move
Going Batty!
Turtle Talk
Backyard Nature
2020 Year of Plant Health
TD Summer Reading Theme - 2020 - 'Game On'
These library programs are not available on the following dates: July 6-11; July 20-25; and holidays.
These programs have been sponsored by Ausable Bayfield Conservation Foundation (ABCF).
To learn more visit your local county's Twitter feed:
Huron County: https://twitter.com/onwestcoast
Middlesex County: https://twitter.com/CountyMiddlesex
Lambton Shores: https://twitter.com/LambtonShores
Share this article >