Friends of the Trail to host spring cleanup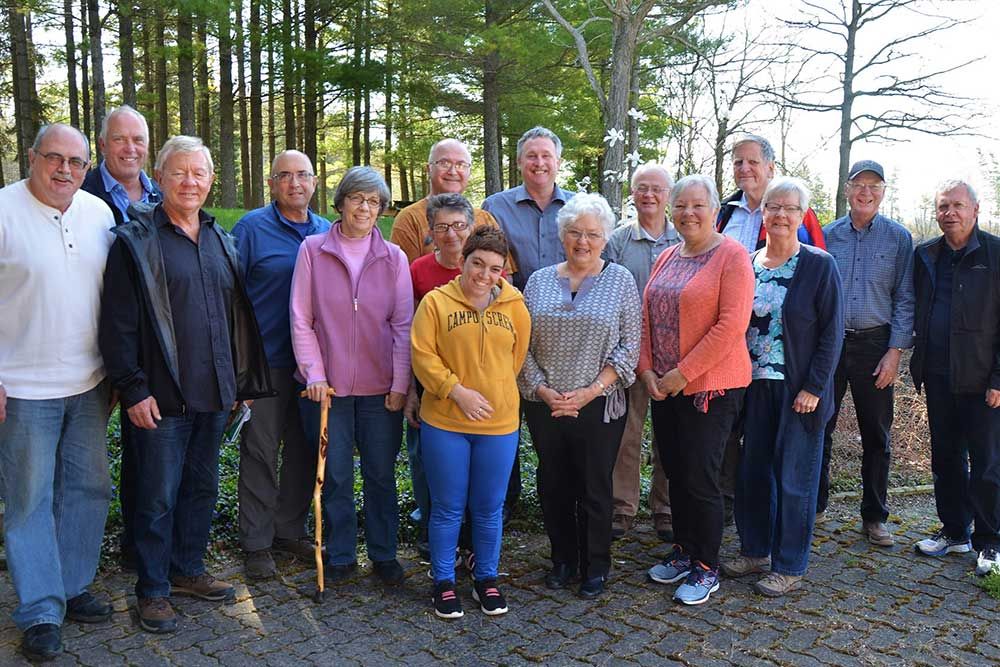 Friends of the South Huron Trail prepare for spring and summer activities
Volunteer group now meeting twice per year; Spring cleanup scheduled for May 27, 2019
The Friends of the South Huron Trail held their first of two meetings for 2019 on Monday, May 6, 2019. Shown in photo, from left to right, are: Dave Frayne; Chair; Henry Winters; George Godbolt; Peter Moseley-Williams; Cathie Beecroft; Terry Wilhelm; Suzie McComb; Abby McComb; George Finch; Sharon O'Toole; Norm Eckel; Carol Rideout; Jim Dixon; Linda Wilhelm; Jim O'Toole; and Lorne Rideout.
The volunteers from the trail group will be active throughout 2019 in spring cleanups and other activities (including volunteer drivers providing a nature trail experience, to people with limited mobility, on the South Huron Trail Mobile).
Friends of the South Huron Trail members Linda Wilhelm, Lorne Rideout, and Dave Frayne were among the volunteers on the Pedestrian Trail Bridge Community Working Group that coordinated the community fundraising campaign for Jones Bridge.
Upcoming activities with volunteer support from Friends of the Trail include spring cleanups and the annual South Huron Trail Fundraiser Golf Tournament to be held on Monday, August 26, 2019.
There is a spring cleanup scheduled for May 27, 2019 with a rain date of May 29.
The next formal meeting of the Friends of the South Huron Trail takes place the morning of Friday, November 1, 2019.
The South Huron Trail and our watershed community is very lucky to have a group of dedicated volunteers that helps to volunteer in fundraising initiatives and to keep it clean and prune it in the springtime. For a number of years the group has held one meeting a year but, for the first time, in 2019, the Friends of the South Huron Trail has a meeting in the spring as well as a meeting later in the year, in November.
Thanks go to these active community volunteers for taking the time and effort to enhance their local community's recreational and nature appreciation resources to the benefit of local people who use the trail and visitors to the area who come to appreciate the trail.
Share this article >