Past, current, and future success at Dinner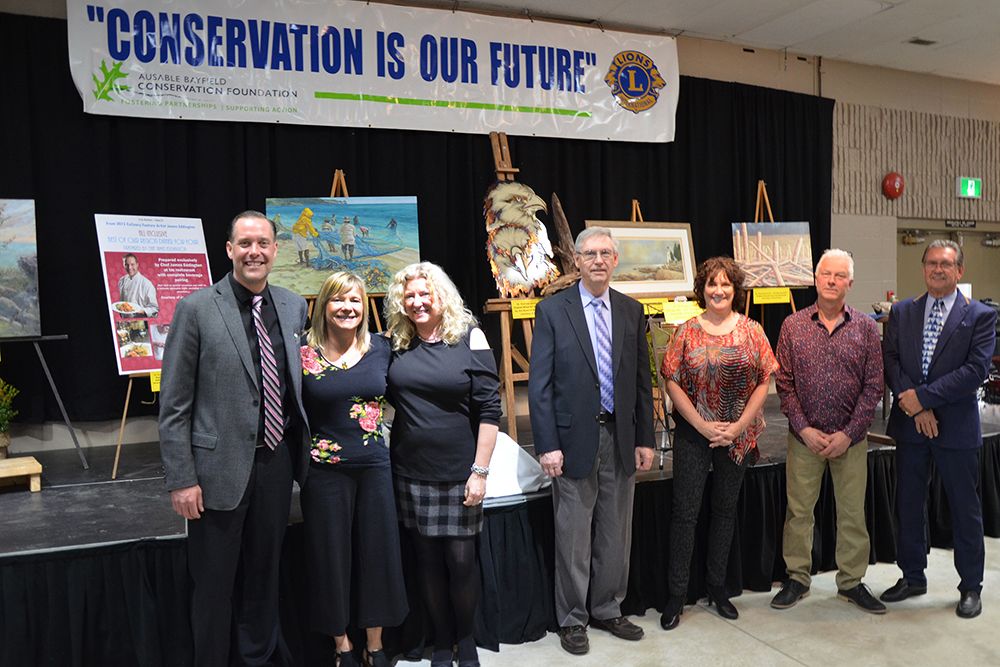 Conservation Dinner guests celebrate 30 years of past success; leave legacy for future with tree sponsorship
30th Conservation Dinner honoured former feature artists; included first 50-50 raffle draw; created local tree planting legacy with new 'Buy a Bundle' seedling sponsorship
The crowd of close to 400 people at the 30th Conservation Dinner celebrated 30 years of past fundraising success by honouring the charitable auction's former feature artists. The patrons at the April 11, 2019 event also left a legacy for the future with added donations through the first seedling sponsorship 'buy a bundle' auction blitz. Their generous donations through this new venture will result in the planting of more than four acres of additional trees in the watershed.
The recognition of past featured artists and the tree planting sponsorship weren't the only 'firsts' at this year's event. The 2019 Conservation Dinner also included the first 50-50 draw, hosted by the Exeter Lions Club. Bob Hoffman, of Dashwood, won the $4,535.00 prize at the first Conservation Dinner 50-50 raffle draw. Matching proceeds were raised, by the draw, for local projects supported by the Conservation Dinner.
The April 11, 2019 Conservation Dinner, co-hosted by Ausable Bayfield Conservation Foundation and the Exeter Lions Club, raised an estimated $58,000 in net proceeds for conservation projects in local communities. The generosity of the local community has helped the Conservation Dinner raise more than $1.2 million in net proceeds over its thirty-year history. This year (2019), the Conservation Dinner Committee invited past feature artists to attend this year's anniversary edition of the event. Eight of the 22 featured artists were able to attend this year's gala and the crowd applauded their contribution to the event's success. Many previous feature artists donated pieces for this year's auction.
The 'Be a Seedling Sponsor' activity was held, for the first time, after the live auction. Several patrons sponsored multiple lots of 200 tree seedlings (at $300 per lot) to be planted in the watershed. Making a difference for forest conditions, habitat, water quality, and carbon capture their generosity will create one acre of new forest for every $1,000 in donations made through the 'Buy a Bundle' auction blitz that was held. In total, more than $4,000 in donations to the 'sponsor a seedling' at the 30th Dinner will create more than four acres of new forest.
"This year the guests at the Conservation Dinner were able to look back over three decades and be proud of what this community has achieved," said Dinner Committee Co-Chair Larry Taylor. "The guests also made an added difference for our future by making it possible to plant four acres of new trees with their donations to the first 'be a seedling sponsor' tree bundle buy. The first Conservation Dinner 50-50 raffle draw also made a positive difference thanks to this new initiative by the Exeter Lions Club and to everyone who bought a 50-50 ticket. In these and many other ways, the generous supporters of the Conservation Dinner have had a positive impact on their communities."
Dinner Committee Co-Chair Jim Beckett echoed thanks to the Lions Club for the new 50-50 draw; to the generous donors to the tree planting sponsorships; and to all contributing artists; donors and sponsors; patrons and guests; and volunteers; and everyone else who has made this event such a community success story. "This community event has been a success every year for 30 years," he said. "This year was particularly special. It was an honour to say 'thank you' to our former feature artists and the presence of so many of these artists at the 30th Conservation Dinner was amazing. Everyone who has been part of this event over the past 30 years should be very proud of what they have accomplished. It was an honour for Larry and me to be part of this positive event that is benefitting people in our local communities."
Net profits of the Conservation Dinner are split evenly between community conservation projects of Ausable Bayfield Conservation Foundation and community conservation projects of Exeter Lions Club. This charity event supports projects in local communities such as accessible nature trails in Bayfield, Clinton, Parkhill, Lucan, Arkona, Exeter, and Varna; turtle monitoring and events in Port Franks and Ailsa Craig; aquatic habitat studies in Old Ausable Channel at Grand Bend; nature day camps, fishing derby and Owl Prowl; parks and conservation areas busing for students to experience outdoor nature education programs; a $1,000 student environmental bursary benefitting students in local communities; a summer job at Ausable Bayfield Conservation for a senior secondary school student; and more.
To find out more visit abca.ca or conservationdinner.com.
Share this article >